Human Service Agency
123 19th Street NE, Watertown, SD (605) 886-0123
Remembrance Ceremony
Glacial Lakes SAFE (Suicide Awareness for Everyone) hosted their 6th annual Remembrance Ceremony on September 2, 2020. With the assistance of Prairie Lakes Healthcare System, SAFE was able to host this year's event virtually. September is Suicide Awareness month, and we are encouraging those who have lost a loved one to suicide to do something to honor them and to help raise awareness of the impact of suicide. We want you to know that there is HOPE; there is healing; and there are many resources and services available to help 24/7. You are not alone.
Stakeholders Give HSA High Marks
A recent stakeholder survey of HSA gave high ratings to the agency across the board. A few of the comments made included, "Our community is a better place because of the fine men and women of HSA!", "HSA is a community leader in promoting holistic health," "Clients attending treatment state the services offered are informative, they are challenged to invest themselves in the provided treatment," "There is a strong partnership between HSA and Law Enforcement. Every referral I have ever made was met with nothing but professional courtesy," "The on call service is available day or night," and "HSA is very accommodating to the needs of our high school students."
Employment Connections/Employment Services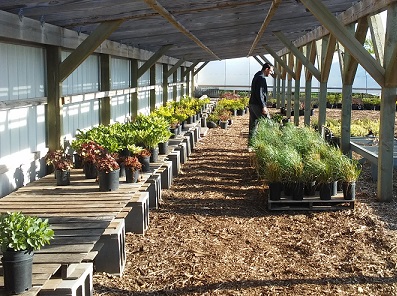 Pictured: Anthony Kinsinger enjoys his new positon with Professional Landscaping. Anthony is the inventory/plant caretaker and takes care of animals on the property.
Community Services helps people find jobs in the community. They work closely with the local Vocational Rehabilitation office and businesses in town. New Horizons also provides Project Skills, a job program for students with disabilities. New Horizons also provides job class for students.
We have so many success stories and examples of the benefits available to employers when they hire people with disabilities. Read more about it on our employment services page.
HSA Foundation: Making Dreams Come True
The Human Service Agency Foundation raises money and accepts donations to help with special projects for people served. This summer Sandy Tierney was able to go to Wisconsin with the help of 'Making Dreams Come True'and funding from the HSA Foundation.
❮
❯
Links


Sign up at smile.amazon.com
Amazon will donate 0.5% of the price of your eligible AmazonSmile purchases to the Human Service Agency if you have signed up to participate. AmazonSmile is the same as Amazon. Same products, prices, and service.
Resources
Crisis line:
Call 605-886-0123 24 Hours/Day
In Sisseton, call 605-698-7688
Counseling Appointments
and Addiction Services:
Call 605-886-0123
Monday-Thursday 8 AM-8 PM, Fridays 8 AM-5PM
In Sisseton, call 605-698-7688
In Milbank, call 605-886-0123
Forms